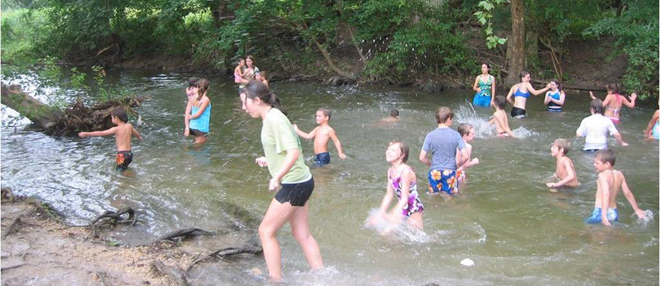 Register for 2018 Summer Camps
Camp is for children ages 5-12.  This is a state licensed camp where all counselors are trained in first aid and safety as well as the ecosystems of the park. 
If you are interested in applying for a scholarship, a regular camp application as well as a scholarship application will need to be submitted. These will need to be hard copy applications. Scholarships are available in limited quantities. Please contact Stephanie Colvard via email or you can call her directly at 830.331.8596 regarding applying for scholarships.
Nature Camp
Join us for eight awesome, fun-filled weeks of adventure as we discover amazing creatures, learn wilderness skills, fish, get up close and personal with some slithering reptiles, beat the heat and swim in the creek, learn to farm and get primitive at the CNC. We will have a blast this summer with our traditional camp games, songs, skits, crafts, and a new special guest each week! At the conclusion of each camp, parents are invited to a celebration picnic where campers present what they've learned. 
Art Camp
Seven full weeks of fun! Create art with nature! Draw, paint, weave, collage, sculpt, and make prints just like Monet, Michelangelo, and Da Vinci! Become inspired and imaginative as we teach you to pull from the beauty of the CNC & Farm to create nature-themed works of art! At the conclusion of each camp, parents are invited to an art show where campers present what they've created.
Herff Farm Adventure Camp
Four full weeks of Herff Farm fun. Herff Farm Camp will be held entirely at the Herff Farm from 9am - 1:30pm. Campers will enjoy picking ripe summer produce, explore types of flowers and plants and uncover things they've never noticed before! They will use their senses to discover different areas of the historic homestead, go swimming and fishing in the creek, feed the worms in the compost bin, hang out with our farm animal friends and tend to the growing gardens.
Preschooler & Parent Camps
Four weeks available! Preschooler & Parent Camps run from 9am - Noon each day. You and your young explorer will enjoy fun and adventure as we offer indoor and outdoor activities that help your wee one discover and learn about nature using their 5 senses. Sign up by clicking on the Preschooler & Parent link below.
*Member of the American Camping Association
*Texas Department of State Health Certified
 
How to Register:

View all summer camp week descriptions.  If you prefer to submit your application via regular mail, you can download the application here.
2018 NATURE CAMPS
| Week & Camp Name | Dates | |
| --- | --- | --- |
| Week 1: Creek Week | June 18-22 | Register |
| Week 2: Fishing Fandango | June 25-29 | Register |
| Week 2: Full Day Option | June 25-29 | Register |
| Week 3: Messy Mania | July 2-6 | Register |
| Week 3: Full Day Option | July 2-6 | Register |
| Week 4: Survivor | July 9-13 | Register |
| Week 4: Full Day Option | July 9-13 | Register |
| Week 5: Amazing Animals | July 16-20 | Register |
| Week 6: Challenge Week | July 23-27 | Register |
| Week 7: Wet & Wild Week | July 30-Aug 3 | Register |
| Week 8: Reel Fishing Fun | August 6-10 | Register |
---
2018 ART CAMPS
| Week & Camp Name | Dates | |
| --- | --- | --- |
| Week 1: Beading Bonanza | June 18-22 | Register |
| Week 2: Earthworks | June 25-29 | Register |
| Week 3: Terrific Textiles | July 9-13 | Register |
| Week 4: Painting | July 16-20 | Register |
| Week 5: Printmaking | July 23-27 | Register |
| Week 6: Sculpture | July 30-Aug 3 | Register |
| Week 7: Smorgasbord | Aug 6-10 | Register |
---
2018 HERFF FARM CAMPS
| Week & Camp Name | Dates | |
| --- | --- | --- |
| Week 1: Turnip the Beet | June 18-22 | Register |
| Week 2: Carrot Me Home | June 25-29 | Register |
| Week 3: One in a Melon | July 9-13 | Register |
| Week 4: Peas on Earth | July 16-20 | Register |
---
2018 PARENT & PRESCHOOLER CAMPS
---